MOSAIC ADVOCATES FOR A STRONG ROLE FOR CO-CREATION IN THE HORIZON EUROPE MISSION-ORIENTED APPROACH
Latest Updates.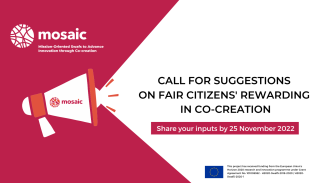 MOSAIC project is launching a call for suggestions on fair citizens' rewarding in co-creation, as part of the project's research activities. The call is open to all actors from the quadruple helix (companies, citizens, research organisations or public agencies) until 25 November 2022.
The MOSAIC project is inviting its Community of Practice cities to join the online event 'MOSAIC Roadmap for co-creation' on 20 October 2022 from 10:00 to 12:00 CEST. This interactive workshop will introduce the MOSAIC Roadmap for co-creation in the context of the Cities Mission.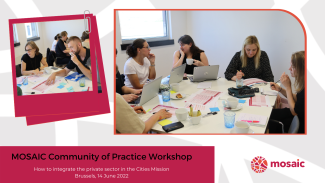 On Tuesday 14 June MOSAIC's partners organised the first Community of Practice workshop on how to integrate the private sector in the Cities Mission. The workshop was the first in a series of activities that MOSAIC experts will organise for the Community of Practice, giving them the opportunity to learn from MOSAIC pilot and replicator cities' experiences and help them in reaching their Cities Mission targets through inclusive co-creation processes.