There are few experiences and little knowledge on quadruple helix co-creation approaches. Many examples exist of bottom-up and spontaneous initiatives which have fostered the development of creative solutions but have often failed to achieve impacts on innovation policies. Simultaneously, decision-makers have often failed to properly engage citizens in these processes, while industries involve them as passive consumers to observe their habits, rarely allowing for a more active role.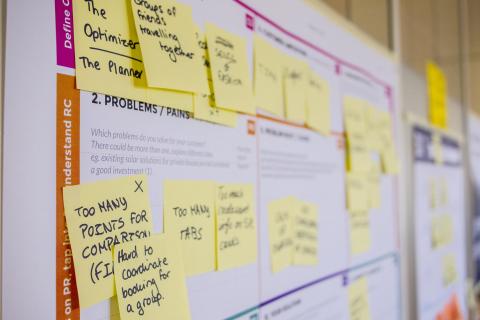 MOSAIC believes that one of the reasons for the still widespread absence of stronger participatory processes in the innovation landscape is the lack of an appropriate methodological framework, made accessible, understandable and employable by all concerned stakeholders, as well as the scarce availability of ways to assess the effects and outcomes of such processes. MOSAIC aims to address these knowledge gaps by exploring how to translate the involvement of stakeholders from all parts of the quadruple helix in Open Innovation ecosystems.
MOSAIC will address the identified SwafS gap - the relatively small know-how and lack of experiences on how to embed the quadruple helix co-creation approach into innovation ecosystems, by testing the MOSAIC co-creation methodology in a mission-like environment focusing on climate-neutral and smart cities priorities. MOSAIC will also assess the impacts of these processes by analysing the contribution of quadruple helix co-creation to innovation ecosystems.
MOSAIC will assess how co-creation can take place in quadruple-helix innovation ecosystems and what kind of transformational changes it can bring to the actors involved as well as to the advancement of innovation. To do this, the project will implement pilot actions in real settings, grounding its interventions in mission-like processes. Mission-oriented approaches target the identification of new technologies that can address state-defined challenges through the collaboration between sectors. As an added value to the MOSAIC research process, some of the project key exploitable outcomes, such as our methodological approach and impact assessment, will contribute to enabling new models of collaboration towards quadruple-helix engagement and to the European Commission's objective to co-create missions with citizens and stakeholders.
MOSAIC will perform an experience review capturing lessons learned from previous and ongoing Science with and for Society (SwafS) projects and other initiatives and capitalise on their co-creation experiences. This identification of diverse co-creation experiences relevant to open innovation and mission-oriented innovation will lead to the development of a MOSAIC co-creation methodology.